Ralph Emry Presents Country Roads CD Set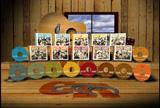 Over 150 Digitally Remastered Hit Country Songs
Ralph Emery Presents: Country Roads - 10 digitally remastered CDs with songs from the most memorable stars in country music. 150 songs - every one personally selected by Ralph Emery.
Country Roads is the ultimate CD set for country music lovers!
You won't find a more complete collection of classic country music in stores! Only the Ralph Emery Presents Country Roads collection contains 150 songs from all of your favorite country music stars. Each one of the songs from the Ralph Emry Country Roads collection has been personally selected by the legendary Ralph Emry!
Ralph Emery Country Roads Is Not Sold In Stores So Order Today!
(can only be ordered online - No phone orders)

$119.92 or 4 Easy Payments of Only $29.98