STRIVECTIN
Breakthroughs in Skin Care!
StriVectin SD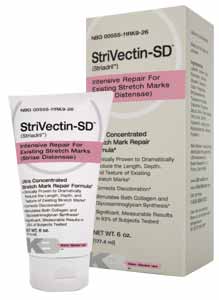 As seen on TV, StriVectin-SD includes a proprietary combination of skin firming agents, elasticizers, and skin hydrators adding up to the most comprehensive topical formulation shown to confront virtually every aspect of stretch mark repair. The StriVectin SD formula rapidy gained popularity for both men and women around the world as the ultimate facial skin care treatment for removing fine facial lines, wrinkles and crows feet!
StriVectin HS Hydro-Thermal Deep Wrinkle Serum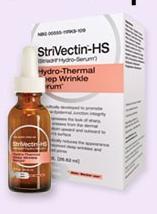 Klein-Becker USA is very proud to introduce StriVectin- HS Hydro-Thermal Deep Wrinkle Serum... the first and only thermophyllic deep wrinkle serum specifically developed to intensify Dermal-Epidermal Junction integrity.

StriVectin- HS Hydro-Thermal Deep Wrinkle Serum travels directly to the base of deep wrinkles, decompressing the look of sharp, visible creases from the dermal substratum upward and outward to the skins surface. dramatically reducing the appearance of pronounced deep wrinkles, enlarged pores and stubborn surface imperfections.
StriVectin HC Hand Cream

More than a simple moisturizer, StriVectin-HC's "hand-specific" formula reduces the appearance of thin, veiny, parchment-like skin on the back of the hands and visibly improves the appearance of age spots and unsightly discolorations all while restoring the appearance of youthful texture, tone and firmness while it protects the hands from environmental damage and dramatically reduces the visible signs of aging.
StriVectin-HC Ultra-Concentrate Cream For The Hands is the ultimate in comprehensive hand care.
Read More About StriVectin HC or

StriVectin NE

Because the skin on the back of your hands is not the same as the skin on your face (the texture is thicker, tougher and "looser"), the multibillion-dollar cosmetic industry is finally focusing its attention on hands…
putting breakthrough skin-care technologies into their newest hand treatments.
Far beyond ordinary moisturizers and basic creams that protect against heat, cold and everyday wear and tear, there's a new generation of hand treatments from high-end cosmetic giants Klein-Becker, Lancome®, Clinique® and Clarins® that not only soften and smooth but may also help reduce the appearance of age spots and wrinkles.
StriVectin NE Self heating Exfoliant cream for the hands