Hollywood Hangers Closet Organizer Set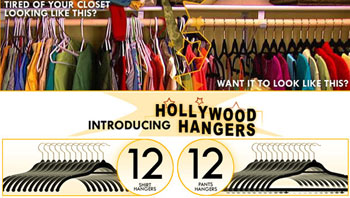 You've Seen the Huggable Hangers Now Introducing
HollyWood Hangers!
Order Hollywood Hangers Closet Organizer 24 Piece Set Now For Only $29.99!

Double, triple, even quadruple your closet space with Hollywood Hangers!
These slim, soft, velvety hangers prevent clothes from slipping. The gentle curves of the hangers preserve the shoulder shape of your clothes. They have a long hook, are lightweight and virtually unbreakable. Hollywood Hangers are plush and velvety enough for the most delicate fabrics, yet strong enough for the heaviest coat. Just like Huggable Hangers, Only 1/4" thick they take up barely any space in the closet.
All hangers are not created equal: some break, some bend, and some, quite frankly, just ruin your clothes. The hangers in the market are either too big or too small, but now there is a perfect hanger. Introducing Hollywood Hangers! Flexible and break-resistant with a 360 degree swivel: hang anything, anywhere, anytime! Saves more than 50% of closet space. Maintain shape and prevent dimples. Hollywood Hangers are anti-static and non slip. They have a special belt, tie and scarf bar. Save luggage space for travel.

Hollywood Hangers keep your clothes looking movie star magnificent. No other hanger offers the quality Hollywood Hangers provides. Use the hanger the studios use! Feel like a Hollywood star.
Hollywood Hangers not only help to organize your closets and save space, but they also protect your clothes as well!
Each 24 Piece Set of Huggable Hangers includes:
12 Shirt Hangers
12 Pants Hangers

Ships in 3-4 weeks
AN ADDITIONAL COST OF $27.95 S&H WILL BE APPLIED TO ALL CANADIAN ORDERS. (Rush shipping available EXCEPT for AK, HI, Canada and P.O. Boxes)