Green Bags As Seen On TV
Bonus Internet Double Offer: 20 Bags for the Price of 10!
$9.95

plus s&h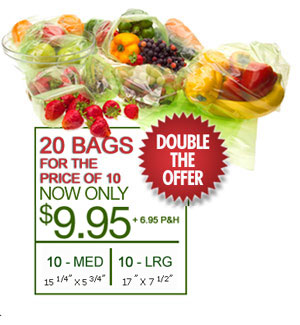 Prolong the Life of Your Food
Tired of throwing out rotten food? DEBBIE MEYER™ Green Bags® prolong the life of your fruits, vegetables and cut flowers without the use of chemicals. Stock up on produce without worrying about rapid spoilage or extend the life of your homegrown fruits and veggies.
How DEBBIE MEYER™ Green Bags® Work
Fruits, vegetables and flowers release ethylene gas while ripening after harvesting or picking. Ethylene gas accelerates ripening, aging and rotting. DEBBIE MEYER™ food storage Green Bags® absorb and remove this damaging gas, dramatically extending the life of fruits, vegetables and flowers.
DEBBIE MEYER™ Green Bags®:
Save you money by wasting less food
Reusable up to 10 times
Keep fruits and vegetables fresh longer
Controls humidity AND discourages:

Mold
Bacteria
Fungus
Decay
DEBBIE MEYER™ Green Bags® ARE ALSO GREAT FOR FRESH CUT FLOWERS & FRESH HERBS!
Green Bags


1 Payment of $9.95


Plus $6.95 shipping and handling