Gospel Legends DVD & CD Set As Seen On TV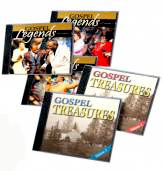 60 Years of Songs of Worship & Praise On CD and DVD -
Over 100 Songs Of Praise from Malaco Records!
Gospel Legends Is Not Sold In Stores!
Order Today and Recieve the Bonus 2 CD Set
"Gospel Treasures" FREE!
$59.95 or 2 Easy Payments of Only $29.95!
Spend some time with the true Legends of Gospel as they perform their history-making hits from the last 60 years of Gospel Music.
Sit back and enjoy the first chapter of our Gospel Music program on DVD. You can continue to enjoy the 2nd and 3rd chapters of worship songs just by clicking each chapter button.
The Gospel Music collection includes 3 audio CD's of the "Gospel Legends Soundtrack" for your home or car.
Songs from the Gospel Legends Music Set include:
Disc 1
1. What A Fellowship - Soloist: Rev. Milton Biggham
2. Caravans Interview - Albertina Walker
3. Lord, Keep Me Day By Day - Soloist: Albertina Walker
4. Interview: Joe Ligon
5. Heavy Load - Soloist: Joe Ligon
6. Interview: Margaret Allison
7. Touch Me Lord Jesus - Soloists: Margaret Allison & Theresa Richmond
8. The Lord Is Blessing Me - Soloist: Rev. Milton Biggham
9. Interview: Michael McKay
10. The Redeemed Praise (If You Had Not Saved Me) - Soloists: V. Michael McKay & Melvin Williams
11. Interview: Ira Tucker
12. Who Are We? - Soloist: Ira Tucker
13. Lord, Do It For Me Right Now - Soloist: Donald Malloy
14. Interview: Bobby Jones
15. I Said I Wasn't Gonna Tell Nobody - Soloists: Bobby Jones & Al Hobbs
16. Interview: Al Hobbs
17. Don't Let The Devil Ride - Soloist: Neal Roberson
18. Interview: Pilgrim Jubilees
19. Rich Man, Poor Man - Soloists: Clay Graham & Cleve Graham
20. Interview: Rev. F.C. Barnes
21. Rough Side Of The Mountain - Soloists: Rev. F.C. Barnes & Lillian Lilly
22. Interview: Shirley Caesar
23. I Feel Like Praising Him - Soloist: Shirley Caesar
24. Lord, I'm Coming Home - Soloist: Rev. Benjamin Cone, Jr.
Disc 2
1. Praise Him - Soloist: Lillian Lilly
2. Interview: Kirk Franklin
3. Joy - Soloist: Kirk Franklin
4. Interview: Edwin Hawkins
5. Oh Happy Day - Soloists: Edwin Hawkins & Evelyn Turrentine-Agee
6. Interview: Dottie Peoples
7. On Time God - Soloists: Dottie Peoples & Paul Porter
8. Interview: Willie Rogers
9. Medley (Wonderful, Hem of His Garment, & Jesus Be A Fence All Around Me) - Soloist: Willie Rogers
10. Tribute to Rev. James Cleveland
11. Interview: Charles Fold
12. Touch Me - Soloists: Charles Fold & Bishop Albert Jamison
13. Interview: Charles Hayes
14. Interview: Bishop Albert Jamison
15. Lord, Help Me To Hold Out - # Soloists: Spencer Taylor & Doug Williams
16. Interview: Roscoe Robinson
17. Leave You In The Hands Of The Lord - Soloist: Roscoe Robinson
18. Interview: Inez Andrews
19. Mary Don't You Weep - Soloist: Inez Andrews
20. Fix It Jesus - Soloist: Harvey Watkins, Jr
21. Interview: Howard "Slim" Hunt
22. Amazing Grace - Soloist: Howard "Slim" Hunt
23. Everything Will Be Alright - Soloist: Rev. Milton Biggham
24. Interview: The Christianaires
25. Interview: The Williams Brothers
26. Living Testimony - Soloists: Doug Williams, Melvin Williams, & Joe Ligon
27. Interview: Dorothy Norwood
28. Victory Is Mine - Soloist: Dorothy Norwood
29. I Need Thee - Soloist: Dorothy Norwood
30. Shine On Me - Soloist: Dorothy Norwood
Disc 3
1. We've Come This Far By Faith - Soloist: Rev. Milton Biggham
2. Interview: Evelyn Turrentine-Agee
3. God Did It - Soloists: Evelyn Turrentine-Agee & Carolyn Traylor
4. Interview: Rev. Lawrence Roberts
5. Peace Be Still - Soloists: Paul Porter & Carolyn Traylor
6. Interview: Lee Williams
7. Jesus Will Fix It - Soloist: Lee Williams
8. Everything Will Be Alright - Soloist: Rev. Milton Biggham
9. Interview: Sullivan Pugh
10. Speak For Me - Soloist: Sullivan Pugh
11. Interview: Spencer Taylor
12. Oh How Wonderful - Soloist: Spencer Taylor
13. Interview: Mosie Burks
14. This Morning When I Rose - Soloist: Mosie Burks
15. Interview: Luther Barnes
16. So Satisfied - Soloist: Luther Barnes
17. Interview: Sensational Nightingales
18. At The Meeting - Soloists: Joseph Wallace, Horace Thompson, & Darrell Luster
19. I Really Love The Lord - Soloist: Rev. Milton Biggham
20. Testimony: Kirk Franklin
21. God Has Smiled On Me - Soloist: Dr. Bobby Jones
22. Interview: Deloris Washington & The Caravans
23. Sweeping Through The City - Soloist: Shirley Caesar
Purchase Gospel Legends today and get ABSOLUTELY FREE an additional 2 CD Set of Gospel Treasures.
Gospel Treasures
Disc 1:

1. The Old Ship Of Zion - Jackson Southernaires, 2. Oh How I Love Jesus - Rev. James Moore, 3. Have You Got Good Religion? - Rev. Clay Evans & AARC, 4. His Eye Is On The Sparrow - Mahalia Jackson, 5. Prayer Will Fix It For You - LaShun Pace, 6. Jesus Took My Burdens Away - Bonner Brothers, 7. Walk With Me - Vanessa Bell Armstrong,
8. How Long? - New York Restoration Choir, 9. If The Lord Be With Me - Cleophus Robinson, 10. I'll Fly Away - Pilgrim Jubilees

Disc 2:

1. In My Heart - Bobby Jones & The New Life Singers, 2. Amazing Grace - Mississippi Mass Choir, 3. Oh Zion (What's The Matter Now?) - Dorothy Norwood, 4. Can't Nobody Do Me Like Jesus - Rev. James Cleveland, 5. Fountain Filled With Blood - The Sensational Nightingales,
6. Yes, God Is Real - Carolyn Traylor, 7. If It Wasn't For The Lord - The Williams Brothers, 8. The King's Highway - Louise "Candy" Davis, 9. I Must Tell Jesus - Sara Jordan Powell, 10. Teach Me Lord - Roberta Martin Singers
That's 3 DVD's plus the 3 audio CD's plus the 2 bonus CD's of Gospel Treasures, all for only $59.95, plus $7.99 shipping and handling. Sorry, VHS not available
Gospel Legends DVD / CD set plus free bonus Gospel Treasures


1 Payment of $59.95




or 2 Easy Payments of Only $29.95

!
$7.99 shipping and handling
30 Day Money Back Guarantee (less S&H)

---
Also available when you order Gospel Legends:
OLD TIME RELIGION DVD - As a special today, we are offering you "Old Time Religion" DVD. This DVD features 12 more classic gospel videos, available for only an additional $12.95 with no shipping and handling costs. This will be charged to the credit card you have provided in today's purchase.
related terms: Ralph Emery, Emory, country music, country legends, country stars, country music hits, collectors sets, country roads